BETTER TV FOR BUSINESS
Whether you're trying to draw a crowd for the big game, entertain the kids while they wait or provide access to timely news and information for your clients, we can provide the right satellite TV solution for your business. Get the channels you need and the support you deserve with mix n' match programming packages and full-service maintenance options to eliminate un-budgeted costs.
At Mood, we only service commercial satellite TV accounts, so you never have to get in line with residential customers. Deal direct with a full service provider, and experience the difference today.
The latest HDTVs with crystal-clear picture and perfect sound
Affordable lease and maintenance options to eliminate unbudgeted costs
Reliable local service that puts your business needs first
PROGRAMMING
By partnering with the best satellite providers out there, we can offer the ideal satellite television solution for commercial applications. Together, we provide programming to entertain, inform and educate with business, news, weather, sports, entertainment and family-friendly fare. Packages also provide wide access to many popular and all local channels in HD.
KEEPING YOUR CUSTOMERS IN MIND
With commercial television solutions, you can enhance the customer experience for any business. By providing high-demand programming such as the big game or the hot new reality series, you'll reduce your customers' perceived wait times and increase customer loyalty.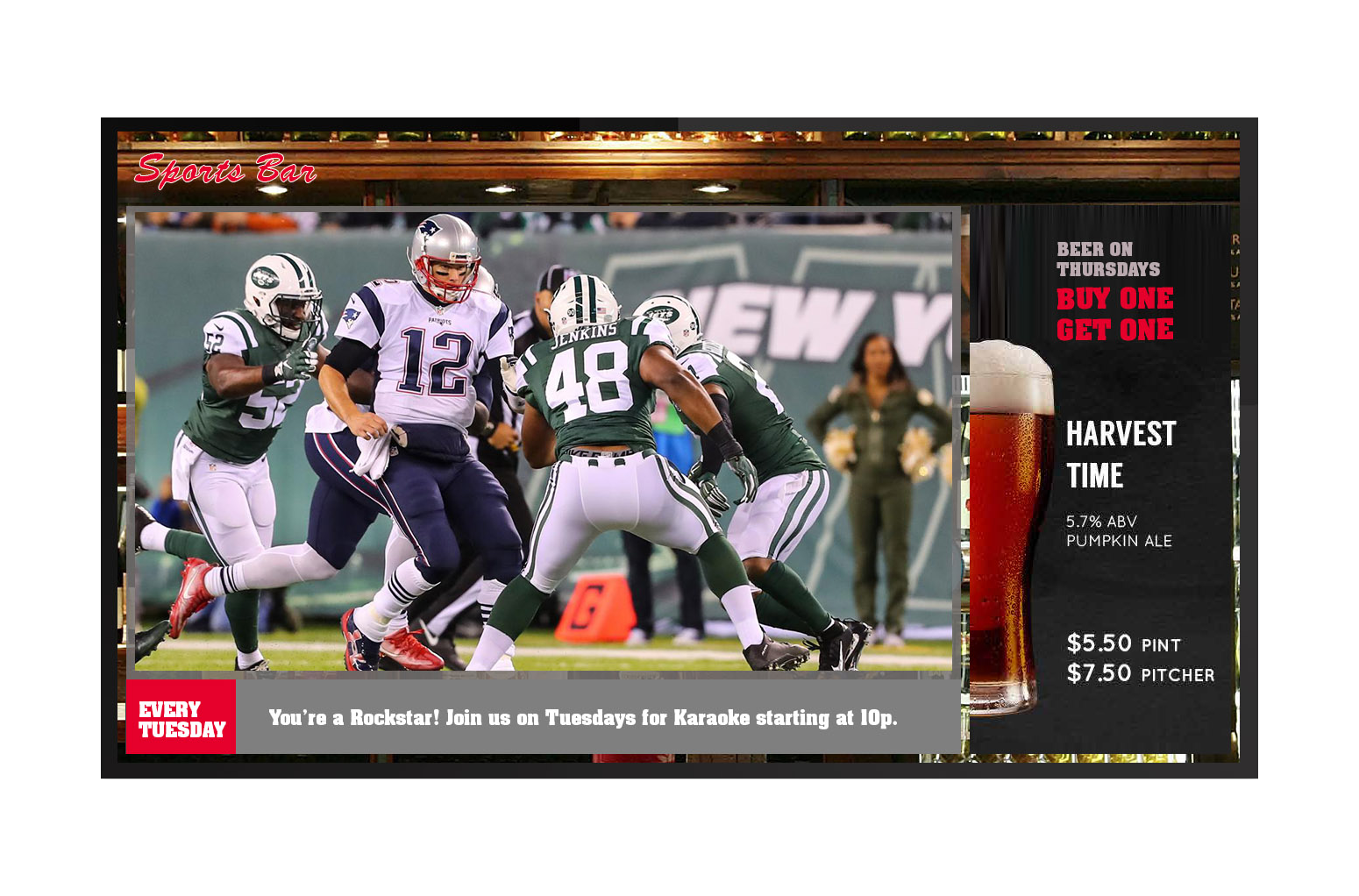 TV Flexwrap
Combining the power of digital signage with commercial TV, this hybrid visual solution entertains your customers with the programs they want to watch while driving the sales that your business needs – all on one screen. Inform, educate and promote with branded screen wrap templates displayed alongside broadcast television programming, or choose full screen options with a few simple clicks.
Learn More
Installation & Support
Mood's unmatched National Service Network has more than 165 offices and 450 technicians specializing in commercial audio/video solutions dedicated to keeping your equipment working around the clock. You can depend on prompt, consistent and reliable installation and service in your local area. Choose to include maintenance as a part of your package and realize incredible value while avoiding unbudgeted cost.
Contact us for more information on Mood Sight Solutions